Toll Free 1-888-462-8401 (US/Canada)
Local & International Inquiries: 1-808-572-9269
E-mail:
info@vacationmaui.com
Kamaole Nalu Resort 302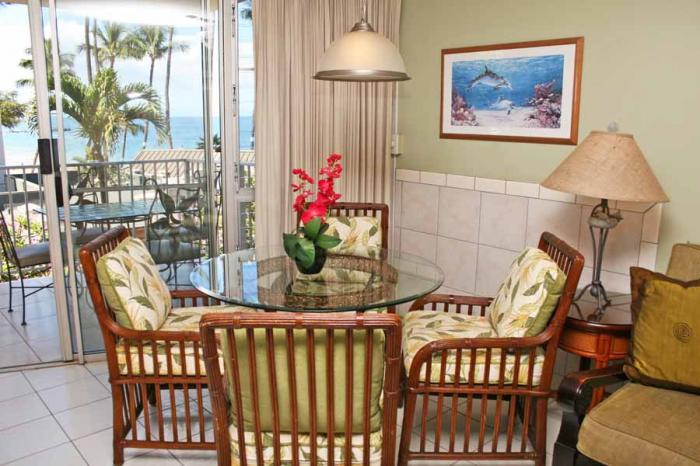 Ensure your relaxation with irresistible views of blue skies and stunning sunsets at Kamaole Nalu. This oceanfront vacation property is just steps away from the best beaches in South Maui. Splash into delightful snorkeling spots, take a stroll along the mile long beach or kick back and sip your favorite drink while you listen to the sound of the gentle ocean waves. Kamaole Nalu is just a short walk to several restaurants to enjoy the tasteful surprises of Hawaii's tropical cuisines. Try an on-site oceanfront yoga class or head for world-class golf just minutes away in Wailea. Don't miss this prime coast side location for whale watching during the peak season (Dec - April) or book an ocean excursion trip to see these impressive beauties up close. Kamaole Nalu has a casual friendly atmosphere that you will surely marvel at the natural splendor that surrounds you during your stay.
Features and Amenities:
Luxury Linens, In Unit Washer / Dryer, Hair Dryer, Iron and Ironing Board, DVD, Cable TV, Free Wi-Fi, Free Local Phone Service, Ceiling Fans (in select units), Lanais (balcony), Beach Towels, Chairs and Cooler. Kitchens Include: Toaster, Microwave, Coffee Maker, Oven, Dishwasher and Refrigerator
Outdoor Features
Ocean View Pool, Lawn BBQ, Free Parking, Swimming Pool and Outdoor Furniture
Staff Services Include
Exceptional Service, Pre-Arrival Condo Inspection, Arrival Greeting at Your Condo, Luxury Linens, Deluxe Bath Amenities, Concierge & Activity Service, Friendly On Island Vacation Staff, Return Guest Rewards, 24 Hour Emergency Assistance
Quick Info
Beds: 2
Baths: 2.00
Low Rate: 150.00/night
High Rate: 304.00/night
View: Partial Oceanview

Home | Condos | Vacation Homes | Map Search | About Maui | Contact Us | Make A Payment
Call Andrea directly to start building your ultimate Maui vacation.
Toll free 1-888-462-8401 (US/Canada)
Local & International Inquiries: 1-808-572-9269
Email: info@vacationmaui.com