Toll Free 1-888-462-8401 (US/Canada)
Local & International Inquiries: 1-808-572-9269
E-mail:
info@vacationmaui.com
Sugar Cove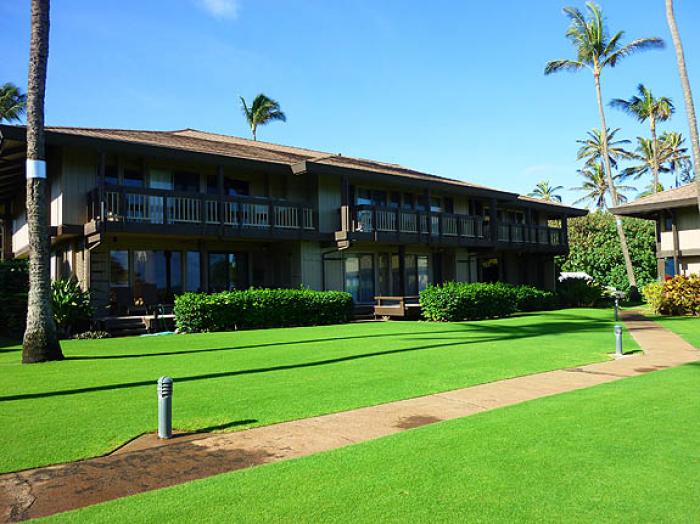 Located on the beautiful North Shore of Maui, Hawaii, Sugar Cove is a group of eighteen townhomes, sharing a landscaped four acre beachfront property. Sugar Cove was designed as a private retreat and a unique tropical vacation home.
It is difficult to list all the benefits of Sugar Cove:
Great location - just a mile down the beach from Paia town, or a few miles in the opposite direction to Kahului (grocery stores, business center).

Kihei is a quick trip across the valley of the island (8 miles).

Very small property - only 18 townhomes, and every one faces directly to the ocean.

Gorgeous grounds! The lawn is like a carpet, and the buildings are surrounded by tropical plants and trees.

Pool on grounds - tired of the ocean? Take a dip in the pool.

Tennis on grounds - this court is in VERY ROUGH CONDITION, and not suitable for experienced players.

Launch access for windsurfing or kiting, fun for paddle boarding, and boogie boarding.

Gear storage - each unit has racks to store boards / sails.

Gated property to protect your security.

Pack the beach toys and take a five minute walk down Paani Place to Baby Beach.

Easy parking - there are two dedicated spaces for each unit.

Home | Condos | Vacation Homes | Map Search | About Maui | Contact Us | Make A Payment
Call Andrea directly to start building your ultimate Maui vacation.
Toll free 1-888-462-8401 (US/Canada)
Local & International Inquiries: 1-808-572-9269
Email: info@vacationmaui.com