Toll Free 1-888-462-8401 (US/Canada)
Local & International Inquiries: 1-808-572-9269
E-mail:
info@vacationmaui.com
Kamaole Beach Villa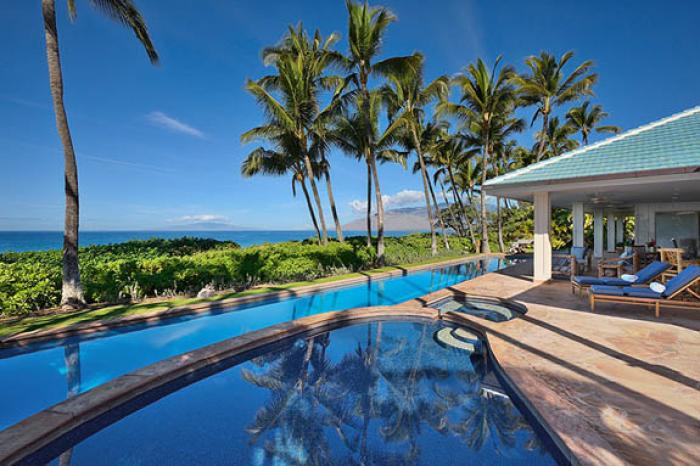 Sitting directly on Kamaole Beach this home fulfills the dreams of the true "beach vacation". This home runs parallel to the ocean, giving most rooms a fabulous view. The pool and hot-tub sit directly in front of the home (between the house and the beach). A row of vegetation provides privacy from other people using the beach. The interior is modern with a huge, central great room. It was designed to reflect the colors that you see when you look outside.... blue for the sky and water, and beiges for the sand. The great room has a large dining table, gourmet kitchen, and large living area. Two bedrooms sit to the left end of the house, and the master suite sits to the right end of the house. This home sits very close to S. Kihei Road, but use of superior quality building materials and landscaping works to minimize any impact.
Conditional Permit: 3909 - TAT#: W40884598-01
Kamaole Beach Villa Main Home
Bedroom #1 - king bed, ocean view, private bath with deep tub
Bedroom #2 - queen bed, ocean view, bath accessed from hall
Bedroom #3 - two twin beds (can be made up as king), gardenview, bath accessed from hall.
This home sits very close to S. Kihei Road, but use of superior quality building materials and landscaping works to minimize any impact. Minimum stay is 7 nights (14 during Christmas) and maximum occupancy is six guests (including children)
Additional Amenities Include:
AC and Ceiling Fans

CD stereo

TV/VCR/DVD

Telephone/FAX/Answering Machine

High Speed Internet

Security System/In-Room Safe

Private Deck/Patio

Outdoor Shower

BBQ

Hot tub
Quick Info
Beds: 3
Baths: 3.00
Low Rate: 1700.00/night
High Rate: 2600.00/night
View: Beachfront
Air Conditioning:yes

Home | Condos | Vacation Homes | Map Search | About Maui | Contact Us | Make A Payment
Call Andrea directly to start building your ultimate Maui vacation.
Toll free 1-888-462-8401 (US/Canada)
Local & International Inquiries: 1-808-572-9269
Email: info@vacationmaui.com