Toll Free 1-888-462-8401 (US/Canada)
Local & International Inquiries: 1-808-572-9269
E-mail:
info@vacationmaui.com
Kuau Beach House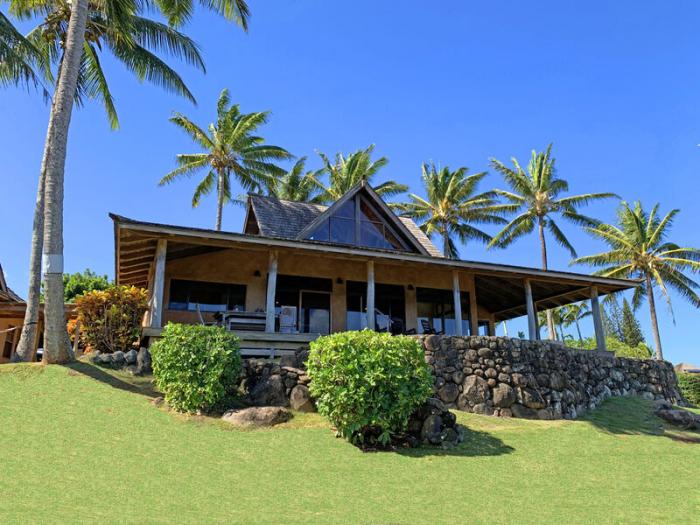 Kuau Beach House Main
Maui County Rental permit - STPH 2018/0003 (this is a legal, permitted Maui vacation rental)
TA-066-523-9552-02 / GE-066-523-9552-02

It's a Beach House! A place to relax, unwind, listen to the breeze through the palm trees, absorb the ocean views. Start with your morning coffee on the huge ocean view deck (perhaps in a rocking chair). Or take your cup, and walk a minute or two over to Kuau Beach. Sit on the sand, watch for turtles, and plan another day of exploring Maui.

Paia town is just over a mile down the road to the west, with a fabulous collection of restaurants, shops, and services. Mana Foods (Maui's best health food store) is in the middle of Paia town. Be sure to stop for pizza at Flat Bread, and enjoy fish tacos at the Fish Market. For that special dinner out, Mama's Fish House is a mile in the opposite direction.

The north shore is a unique area. There are beaches scattered along the coastline - Kanaha Beach (great windsurfing), Spreckelsville Beach, Baldwin Beach with Baby Beach sitting on the west end of it, Paia Bay, Kuau Beach, and Hookipa. There are no large buildings, no large hotels, and no chain stores. If that's what you're looking for, you'll need to head to the south or west side. From the north shore, it's a quick drive to the upcountry area with a rural, farming environment. Moving further up the hill is Haleakala Crater, a "must see" while you're here. This area also puts you at the starting point for the day trip to Hana.

Looking for excitement? In Maui, that usually means some extreme ocean action. Hookipa Beach is a couple of miles to the east. It's fun to sit on the beach and watch the surfers, windsurfers or kiters. Mid to late afternoon the sea turtles come out of the water to rest on the east end of Hookipa beach. Some afternoons we've counted more than sixty. Quite a sight!

Searching for a special place for your time on Maui? Look no further. When you drive up to the house, you'll see the aqua garage door and chuckle. Somehow it's so cheerful it just makes me smile!

As you walk up to the entry door, you'll be looking straight through the house to a big ocean view (another reason to smile). Step into the house to discover a spacious great room, with a huge wall of sliding doors stretching across the entire space. These doors open to an overhung deck that runs the entire length of the house. The deck is set up for outdoor dining (teak table, gas BBQ), The best feature.... comfy rocking chairs and a huge overstuffed chair, all looking across to the ocean.

Do you love to cook? The kitchen is set-up for you, with a Viking range, large side by side refrigerator, and enough cookware to create gourmet delights.

Bedroom #1 faces the ocean (of course...), with sliding doors to the deck. It has king bed, and an ensuite bathroom. And the best feature.... fabulous outdoor shower just outside this master bath (of course there's an indoor shower also).

Bedroom #2 sits to the back of the house. It has a king bed, and access from the bedroom to bathroom #2.

Bedroom #3 is set on the upper level, surrounded by windows and a view to the ocean. This is a large room with a king bed and a twin bed.

Want to play frisbee or volleyball (bring your own net and ball)? Enjoy a half acre of grass set below the house. Lots of room to run around the play.


HOUSE RULES:
We are delighted that you are considering this property for your vacation lodging. We are sure that you would enjoy this lovely vacation home.
This property has a vacation rental permit issued by the County of Maui, and is subject to the rules and restrictions imposed by the County for all short term rental homes. Please understand that we would be unable to accept a rental that does not agree to abide by these rules. Note: properties without a short term rental permit are subject to closure by the County.
1. Neighbors - Please be considerate of our neighbors. Noise carries easily to their homes, particularly in the evening. NO loud music, NO parties, NO amplified sound of any nature at any time. Many neighbors must be up early in the morning to go to work, and it's important that your use of this property does not impact them in any way.
2. Quiet Hours - Quiet time is from 9pm to 8am.
3. Use of the Property - Additional friends/family CANNOT be invited to the property and it cannot be used as a "meeting place". The property can be used ONLY by the guests listed on the rental agreement. The County law allows us to accommodate a maximum of two guests x the number of bedrooms.
4. Parking - There is parking on the property. Vehicles CANNOT be parked on the street at any time. When vehicles are on the street, there is insufficient space for emergency vehicles, fire trucks, the trash truck or neighbors to get down the road.
5. Minimum of 1 guest must meet the minimum age requirement of 25.
At the time of booking, we'll forward the property rental agreement for review and acceptance.
Quick Info
Beds: 3
Baths: 2.00
Low Rate: 500.00/night
High Rate: 850.00/night
View: Oceanfront
Amenities: Free WiFi Laundry on property Linens Beach Towels Ceiling Fan Hair dryer Refrigerator Commercial style stove Microwave Dishwasher Dishes and Utensils Toaster, blender, coffee maker Fully equipped kitchen Parking - free Outdoor shower Gas BBQ

Home | Condos | Vacation Homes | Map Search | About Maui | Contact Us | Make A Payment
Call Andrea directly to start building your ultimate Maui vacation.
Toll free 1-888-462-8401 (US/Canada)
Local & International Inquiries: 1-808-572-9269
Email: info@vacationmaui.com