Toll Free 1-888-462-8401 (US/Canada)
Local & International Inquiries: 1-808-572-9269
E-mail:
info@vacationmaui.com
Mamas Fish House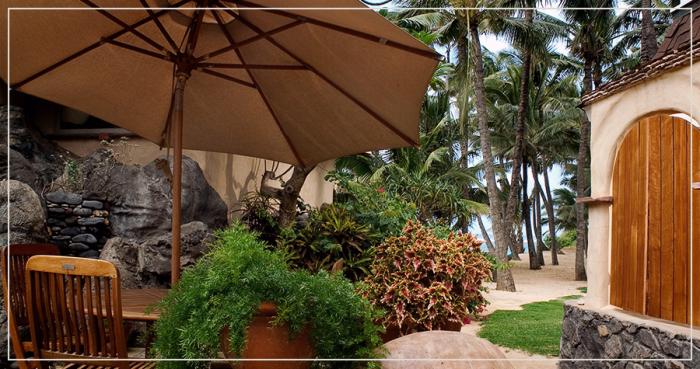 The Christenson family retained a vision from sailing across the South Pacific in the late 1950's. That vision is of old Polynesia, which they've brought to life in their charming tropical cottages, and is waiting to be shared with you.
Located just steps from the ocean on a secluded white sand beach on Maui's North Shore, the Inn at Mama's Fish House offers the same warmth and charm you'll find in the award-winning restaurant. Polynesian decor, unique local wood-working, spectacular tropical flower arrangements and beautiful artwork fill the rooms with aloha, creating a casual comfort that most dream Maui to be.
Nestled in a coconut grove in a secluded beach on Maui's north shore, away from the busy resorts that line the shores of West and South Maui. Close by is Paia, Maui's coolest town, with shopping, galleries, cafes, night-life and the island's biggest and best organic grocery store. The beach is next door to famous Hookipa Beach, where international wind-surfing, kite-surfing and board-surfing competitions are held.
Nearby Attractions Include:
Hookipa Championship Surfing Beach
Haleakala Crater National Park
Kuau Cove Beach

Hana Town and the Waterfalls

Horseback Riding

Zip Line

Home | Condos | Vacation Homes | Map Search | About Maui | Contact Us | Make A Payment
Call Andrea directly to start building your ultimate Maui vacation.
Toll free 1-888-462-8401 (US/Canada)
Local & International Inquiries: 1-808-572-9269
Email: info@vacationmaui.com