Toll Free 1-888-462-8401 (US/Canada)
Local & International Inquiries: 1-808-572-9269
E-mail:
info@vacationmaui.com
Pinnacle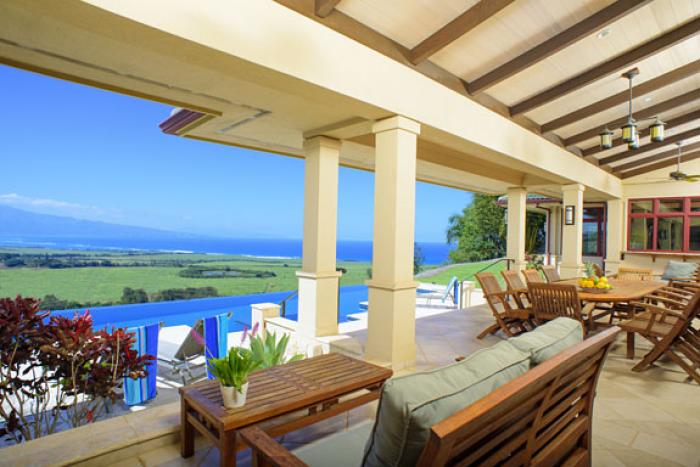 PERMIT STPH-2013/0024 TAT: TA-091-083-1616-01
Welcome to Pinnacle! Pinnacle is not for people who want to go out to party every night. But if you want to sit under the stars with people that you want to be with, eat delicious food that you just grilled, and forget about the rest of the world for a few precious days, then Pinnacle is for YOU!
The Pinnacle property was built with a master plan that highlights and preserves the natural environment and provides a private setting for each of the Main House and the Guest Cottage. Whether you're new to Maui or familiar with the beauty of this special island, we invite you to discover OUR Maui.
A vacation in Upcountry Maui is an opportunity to escape from the hustle and bustle, and experience a different side of Maui. Set just a few hundred feet above sea level, Pinnacle sits outside the rain band, on the edge of a hill, at the entrance to the quiet, rural town of Haiku. Just one mile down the road is the town center, with a variety of amenities and services.
Activities and Adventure:
There's really no shortage! The Haiku area is close to world class surfing, windsurfing, kitesurfing, hiking, and biking:
Be sure to visit Donnie at Go Cycling Maui. They offer the ultimate cycling tour experience, treating you like a professional cyclist (sort of like a fantasy camp for cyclists). They are also a full service bike shop with high end rentals.
Haleakala Bike Company is also located in Haiku, and offer a very different service. They drive to the Haleakala park gate and provide a bike for you to cycle down at your own pace.
For a quick hike, be sure to visit Twin Falls (about 10-15 minutes by car from Pinnacle) and hike up the stream to the waterfalls. They're a bit chilly, but there's nothing like swimming under a waterfall.
If you want to soar over a gulch, the Piiholo Zipline is a short ten minute drive from Pinnacle.
Eating Out:
Haiku town center offers a variety of small restaurants and cafes. From the lunch time fish taco stand, to breakfast, lunch or dinner at Colleens, there is both variety, as well as quantity: Consuelo's Deli, Colleen's, Veg Out, Hana Hou, North Shore Cafe, Spice and Rice (Indian), Max's Pizza, Lynn's Cafe
For upscale dining, Mama's Fish House and Haliimaile General Store (two of Maui's best restaurants) are within ten minutes by car. If you are looking for more options, Paia or Makawao are only ten minutes by car from Pinnacle.
Groceries:
Haiku town center has two small grocery stores - Haiku Grocery, and Fukushima's. Although small in size, they seem to have almost everything you might want. For major grocery shopping, Safeway and Costco are located in Kahului (approx. 20 minutes from the house).
Health and Fitness
The Studio Maui (Maui's best yoga studio) is just one mile up the road from Pinnacle. They offer a variety of classes, for beginners through experts. No membership is required. Upcountry Fitness is a small gym, offering short memberships suitable for guests on vacation. Other services include: Hair and nail salon, Chiropractor, Massage therapist (note: many therapists will visit the house and provide on-site services), Doctor's office, Pharmacy
Business Services:

We hope that you won't be working on vacation, but if necessary, Haiku town center has a post office. (Note: Pinnacle also provides high speed wireless internet) in both the Guest Cottage and the Main House.

Home | Condos | Vacation Homes | Map Search | About Maui | Contact Us | Make A Payment
Call Andrea directly to start building your ultimate Maui vacation.
Toll free 1-888-462-8401 (US/Canada)
Local & International Inquiries: 1-808-572-9269
Email: info@vacationmaui.com