Toll Free 1-888-462-8401 (US/Canada)
Local & International Inquiries: 1-808-572-9269
E-mail:
info@vacationmaui.com
Puamana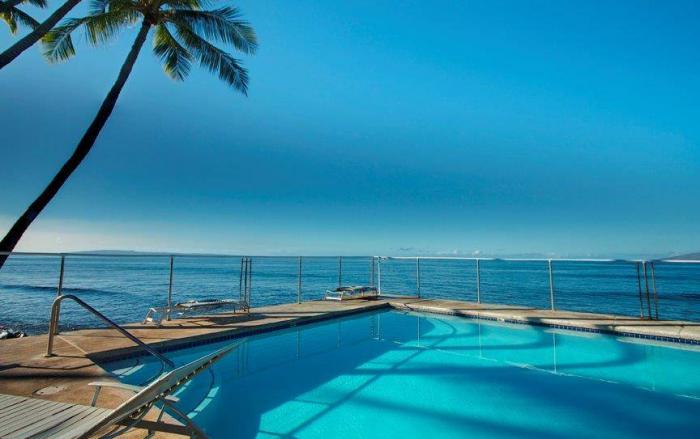 Nestled on 30-acres along the sunny shore of the historic whaling town of Lahaina, this gated oceanfront resort community features quality low-rise townhomes amongst lush tropical landscaping. With layouts that range from 1-bedroom to 4-bedrooms, these spacious Maui vacation rentals offer the perfect island lodging for a traveling party of almost any size!
Simply take a stroll through the swaying palms and soaring banyan trees to discover true leisure on your Maui holiday getaway. With three swimming pools also available, you are sure to reach the desired level of relaxation with relative ease. The quiet oceanfront pool offers a secluded oasis to lounge in peace while the Dolphin Pool features a playground that is popular amongst our keiki guests.
If you are looking to work on your tennis or golf stroke while on your Hawaii vacation, simply wander to the resort's tennis court and the neighboring Kaanapali Golf Course. Or you can practice some active recreation with the Puamana gym exclusively accessible to all our travel guests. There are also a number of exciting activities just a short stroll away from the beautifully manicured grounds. So when you are ready to explore, make your way to the heart of Lahaina town to discover a treasure trove of shops and restaurants along with ocean activities like snorkeling or parasailing.
Back in your West Maui vacation condo rental, enjoy the ambiance of the historic plantation clubhouse as you watch the flaming sunsets from the beachfront veranda. Here you will find a piano room and a reading parlor along with a lending library where Puamana residential community encourages you to relax to the whisper of gently crashing waves.
Puamana is truly that quality tropical seaside condo resort that you have always fantasized about and it is right at your fingertips. Book today and let your tropical adventure begin!

Home | Condos | Vacation Homes | Map Search | About Maui | Contact Us | Make A Payment
Call Andrea directly to start building your ultimate Maui vacation.
Toll free 1-888-462-8401 (US/Canada)
Local & International Inquiries: 1-808-572-9269
Email: info@vacationmaui.com